SHIMEJI CAMPAIGNS
SHIMEJI CAMPAIGNS LIST
---
HOW DOES A SHIMEJI CAMPAIGN WORK?
As easy as: THE MORE PEOPLE CONTRIBUTE, THE CHEAPER FOR ALL OF YOU!!

A Shimeji Campaign, formerly called Collaborative Project, is a dynamic way to let people support a specific Shimeji Project that is being made with a money goal to reach. The point of their success is to gather the higher amount of people so they can contribute with very small amounts of money to reach the goal all together. Put simply, it's to split the cost of a Shimeji between a lot of people rather than making one person pay the entire amount alone.

If a Shimeji of a Campaign is finished but the Goal is not reached, that Shimeji will be holded as an Exclusive Shimeji until the Goal is reached.

Here you can find a graphic explanation of how a Campaign works: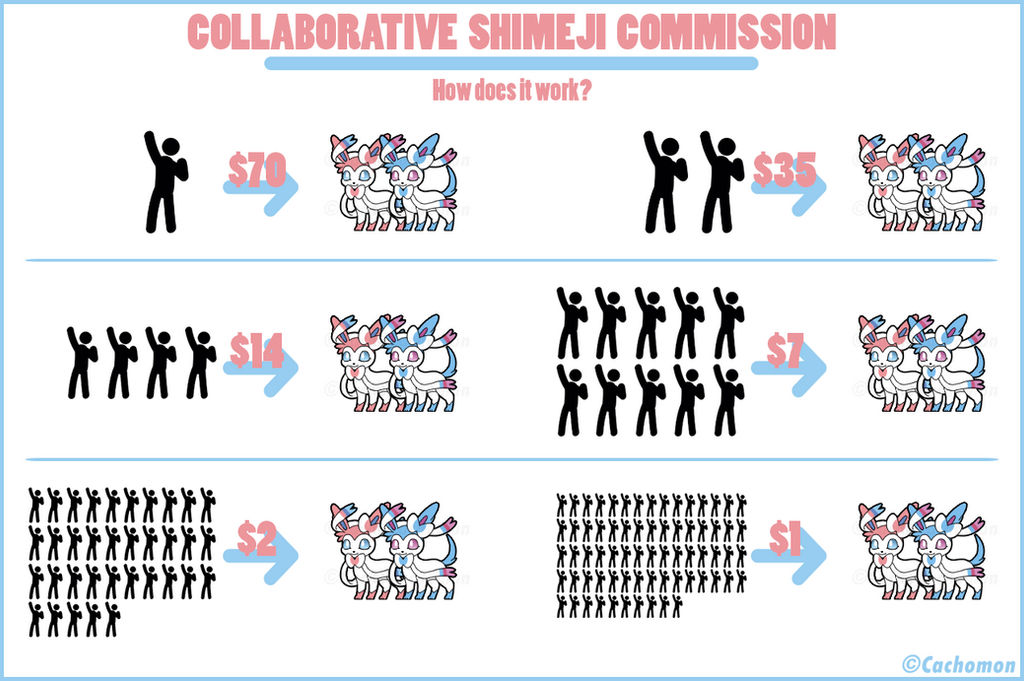 ---
HOW TO CONTRIBUTE IN CAMPAIGNS:
· With money (one-time donation):
You can make a one-time
donation
for the specific Campaign you want to support through
Ko-fi
,
PayPal
or
Revolut
. If you do so, please make sure to write in the Subject of your donation to what are you donating. In case you forget to put a Subject you can send me a
Private Message
telling me through what name and platform did you donate and the Campaign you want to support. If you don't write a Subject but also don't send me a Private Message I won't be able to know what do you want to support so I will just add it to the Campaign I think it needs a boost.
· With money (subscription donation):
You can subscribe to
Ko-fi
,
Cachomon Patreon
or
BlackCachomon Patreon
and contribute automatically to the Monthly %. At the beginning of every month (usually 1-2nd weekend of the month, after Patreon pays out to creators) I always do a Monthly Post in Patreon where I calculate how much money from the Pledges of that month is sent to Campaigns. If needed, there will be a Poll before the Monthly Post happens to let people decide what Campaign will get the funds that month. Doing the subscription via Patreon will also give you access to the Shimeji Passwords and extra power when voting in Patreon Polls.
· Without money:
If you cannot help with money you can help gathering people that has money. Be it friends or strangers, you can do that with a Signal Boost in your website or social media for example (and don't delete it, this will be a proof if needed). Just make sure that the people you gather mentions YOU when they donate, otherwise I will not know they come from your call. If you do this successfully, you will get a little reward! You will get the Beta Link of the supported Campaign or the Monthly Beta/Exclusive Password depending on how big was the donation. Please contact me if that happens so I can give it to you.
All the people involved in a donation will receive a PRIVATE link to the progress of the project (Beta or Exclusive Link, this will depend if the Shimeji is already finished or not), being able to see AND download it to try it out! Of course, until the project is finished, this link or the downloaded files CANNOT be shared without my permission. If I catch anyone breaking this rule I will take further measures. If you know someone that is cheating please let me know and show me your proof; I will act right away.
---
WHO CAN ACCESS WHAT DURING SHIMEJI CAMPAIGNS: